Realme Screen Replacement service in Mumbai
Welcome to Repairmy, your one-stop solution for all your realme smartphone repair needs in Mumbai. We understand how frustrating it can be when your phone's screen breaks, and that's why we offer the best realme screen replacement services in Mumbai.
Our team of skilled technicians has years of experience in repairing realme phones, and they use only genuine replacement parts to ensure that your phone works just like new. We provide high-quality service that is affordable and fast, ensuring that you get your phone back in no time.
Our realme screen replacement service covers a wide range of realme models, including the realme 7, realme Narzo 30, realme X7, realme C21, realme C25, and many more. We use state-of-the-art equipment to diagnose and fix your phone's screen problems, and our technicians are always ready to answer any questions you may have.
We provide a 90-day warranty for all our realme screen replacement services, so you can be sure that your phone is in safe hands.
To avail of our realme screen replacement service, all you need to do is visit our website and book a pickup. Our customer service team will get back to you as soon as possible and arrange for your phone to be picked up.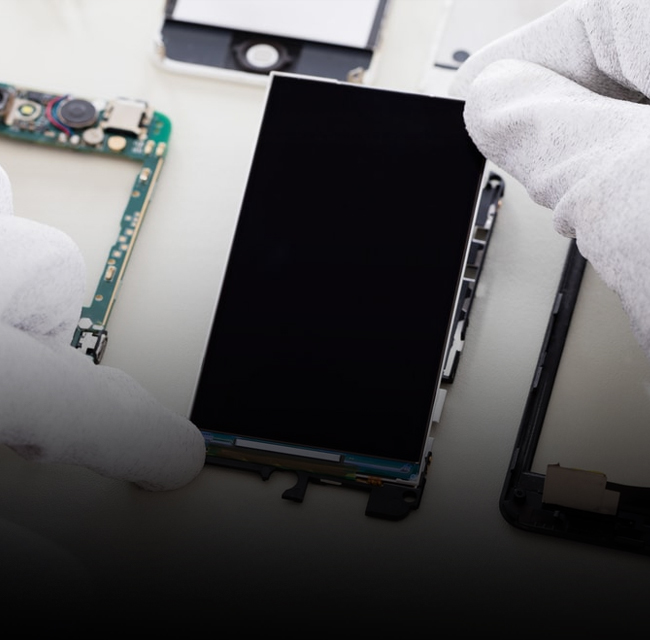 Why Choose us
Experienced Technicians
Our technicians have years of experience in handling Realme phone battery replacements, ensuring that your device is in safe hands.
High-Quality Parts
We use only genuine parts to ensure the best performance and longevity of your phone battery.
Fast Turnaround
We understand the importance of your time, and that's why we strive to complete the battery replacement process as quickly as possible, often within the same day.
Affordable Pricing
We offer competitive pricing for our battery replacement service, without compromising on the quality of our work.
How it Works? Its Easy
01
Book
Call or fill up the enquiry form for booking

02
Pick
Once the form is filled in, our logistics partner will schedule your pickup.
03
Quote
The handset will be diagnosed and the estimation will be shared with you (If applicable).

04
Pay
If approved, pay online and the handset will be repaired.

05
Drop
After the repair, the handset will be delivered back to you.
Review left by our satisfied Clients
Very good service. My realme X7 max display was broken accidently given for repair here they installed new display, now my mobile looking new like before. Really appreciate
SwayaM Desai
Our Customer
Glad and satisfied with the services they provided , I replaçed my display of Realme U1 over here , my phone has got a Rebirth , only place in Thane to repair your Realme phones .
Bhimrao Vakode
Our Customer
very good experience with service . My realme c1 was dead . Given to repair took some time but my work is done as I am not getting part anywhere ,this center fulfilled my need.
Ashutosh Yadav
Our Customer
I have repaired my Real me GT Master Edition with good quality of work. Supported staff and Happy experience.
Prashant Gaikar
Our Customer
Very good service. I repaired my mobile here. Very supportive staff. All my issues are well addressed and resolved.
Aavesh Dhole
Our Customer
My mobile off automatically. so many things tried like charging ,on off etc but not turned on. Showed in gallary they repaired my mobile,now working flawless. Thanks realme.
Suraj Sav
Our Customer
Frequently asked questions
What do you mean by all models supported?
It means we support all models from the 1st model to the latest model, which includes Realme X series, Realme Narzo Series, Realme C Series, Realme Number Series
Do you give any warranty after repair?
Yes, all devices which are repaired carry a total of a 3-month warranty which includes 30 days spares warranty and 90 days of service warranty and if your mobile is under a 1-year brand warranty that will be continued after repairs. All repairs are carried out by an authorized/partner service center.
How do I get my Realme phone repaired?
You can get your Realme phone repaired by visiting a Realme service center or contacting Realme support. You may also be able to find a local repair shop that can fix your phone.
Is it possible to fix a water-damaged Realme phone?
It may be possible to fix a water-damaged Realme phone, but it can be difficult and may not always be successful. If your phone has been damaged by water, it's important to act quickly and try to dry it off as much as possible. You should also avoid using the phone until it has been properly repaired.
How much does it cost to repair a Realme phone?
The cost of repairing a Realme phone will depend on the specific problem and the extent of the damage. It may be more cost-effective to replace the phone if the damage is severe or if the repair costs are significantly higher than the value of the phone.